[ What we offer ]
RHEOBOND 007 / 008 - high-strength industrial flooring for new construction and renovation
Only 10 millimeters thin and fully resilient after 48 hours – the hard-wearing RHEOBOND 007 / 008 industrial floor covering offers you tangible benefits. Choose this heavy-duty, low-shrinkage industrial floor for the new construction of heavily frequented production areas, for the time-critical renovation of logistics halls or as a durable fair-faced screed for your home.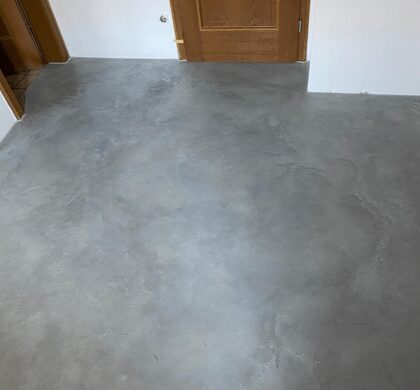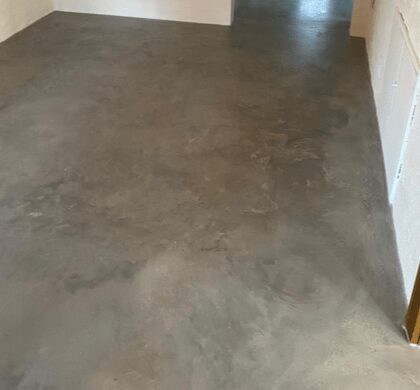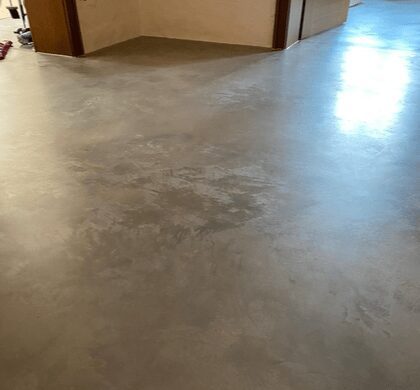 The strengths of the industrial floor covering RHEOBOND 007 / 008
An industrial floor is exposed to greater stress than conventional floors. Countless forklift trips, spontaneous point loads and permanent truck deliveries demand top performance from your industrial floor. The heavy-duty, shrinkage and tension-free hardening industrial floor covering RHEOBOND 007 / 008 shows its strengths on surfaces with high mechanical stress.
As a thin layer of special cement, the industrial covering bonds permanently to freshly laid or adhesively sealed concrete. This makes RHEOBOND 007 / 008 your ideal partner for the quick commissioning of new logistics areas or the renovation of your production environment. Extensive warehouses and large living areas also benefit from the possibilities of a seamlessly laid floor.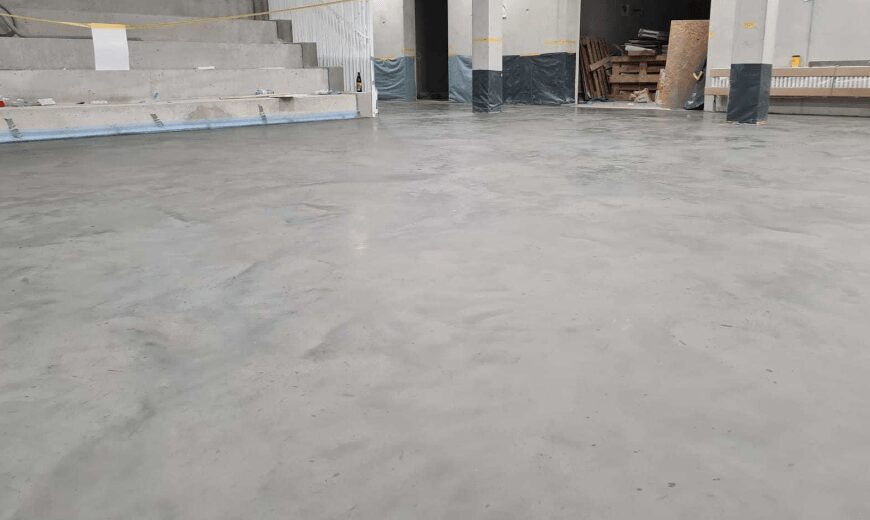 Rapid commissioning of new areas
Time is money. With the use of RHEOBOND 007 / 008 as an industrial floor, your new logistics areas, production halls or driveways are immediately available to you. As a purely mineral and therefore fire-resistant industrial floor covering, it easily withstands even heavy loads. The thin-layer industrial floor forms a firm bond with the still damp concrete and hardens quickly and without tension.
You can give wide, uniform surfaces a homogeneous appearance by laying them without joints. This also makes the industrial floor covering extremely interesting as a fair-faced screed. Exhibition halls, packing stations and high-quality residential complexes are transformed within hours into lush usable areas with a pleasant look, high resilience and excellent resistance to mechanical stress.
Industrial floor renovation in record time
Do not put off urgently needed renovations any longer. If ruts or other damage appear on your existing commercial space after years of intensive use, then it is time for the repair of your industrial floor covering. You can avoid unnecessary downtimes when renovating your routes, logistics halls or goods receipt. By using RHEOBOND 007 / 008 for your renovation, we reduce your downtime to a minimum.
The polymer-modified fair-faced screed hardens quickly and without tension, and you can use the finished surfaces again within 48 hours. Already after the first day RHEOBOND 007 / 008 reaches a compressive strength of 40 N/mm², after 28 days it reaches the full compressive strength of 60 N/mm².
Exquisite screed for seamless living dreams
Give your living space visual depth and look forward to your seamless exposed screed. The RHEOBOND 007 / 008 industrial floor covering we use forms a firm bond with the concrete floor and is non-shrinking. Apart from the building-related expansion joints, your fair-faced screed therefore does not require any additional compensation joints. You get a uniform surface free from visual restrictions.
The thin installation height of just 10 millimeters also allows completely new living ideas. Especially when it is designed as an attractive fair-faced screed, you save yourself any further floor covering. You gain room height and expand your usable living space. Maybe you want to set up a private dance hall in your home. Even for this, the hard-wearing floor is ideal and you will enjoy it for years.
Properties and advantages of RHEOBOND 007 /008
The high-quality industrial floor covering RHEOBOND 007 / 008 is suitable for large-area applications and areas with high mechanical stress. As a shrinkage and tension-free fair-faced screed, it is also characterized by its fast drying time, ideal for low downtimes in a commercial environment. The polymer-modified industrial floor RHEOBOND 007 / 008 is
purely mineral and fireproof
firmly connected to the ground
hardens without shrinkage or tension
hardened with crystal quartz additives
can be fully loaded after just 48 hours
has a compressive strength of 60 N/mm²
with a thickness of 10 millimeters
With this high-quality industrial floor covering, we provide you with all the advantages of modern screed technology.
Process at your site
Exactly on the agreed date, our screed layers will be at your site to lay the RHEOBOND 007 / 008 industrial floor covering. We start with pre-wetting and applying the system bonding agent. We then lay the industrial floor, which forms a permanent bond with the floor using the polymer-modified bonding agent.
For sufficient hydration, we cover the fresh soil if necessary after machine smoothing. The next day we complete the laying by applying the associated glaze. Your industrial floor or exclusive fair-faced screed is ready for use on the same day. Look forward to your noble and indestructible industrial floor covering.
Your experienced partner for your industrial floor
For more than 35 years we have been enthusiastic about winning customers and partners through quality, reliability and the will to innovate. During our constant training, we keep encountering new, interesting and innovative floor screed options. The high-quality industrial floor RHEOBOND 007 / 008 convinced us with its many useful properties.
We are pleased to be able to offer you this attractive, durable and environmentally friendly screed, which you can walk on and use completely two days after laying it. Get in touch with our friendly customer service team today to arrange a time for us to install the high strength industrial flooring for you.