[ What we offer ]
Heat and sound insulation with insulation fill
As leveling fill under the screed, for leveling during renovations or as sound and heat insulation in your new building - bulk insulation materials are used wherever insulation panels and rolls give up. As a screed company, we ensure your efficient thermal insulation, effective footfall sound insulation and even leveling quickly and without waste.
Insulating fill with loose or bound diffusers
Insulation boards are suitable for quick attachment to even walls, ceilings and floors. Bulk insulation materials, on the other hand, are ideal for difficult geometries. They are small-grained grit that is transported by hand or blown in by machine. The loose grains disperse themselves around any obstacles, creating an even and efficient thermal barrier. Depending on the application, we as screed layers use different grain sizes or a conglomerate of different materials.
Loose insulation fillings remain loose even after laying. They are therefore often used to insulate attics or in wall retention systems. The diffusers in bound fills, on the other hand, are coated with a binding agent that hardens when water is added, thus creating a stable insulating structure. Epoxy resin or cement are mainly used as binders.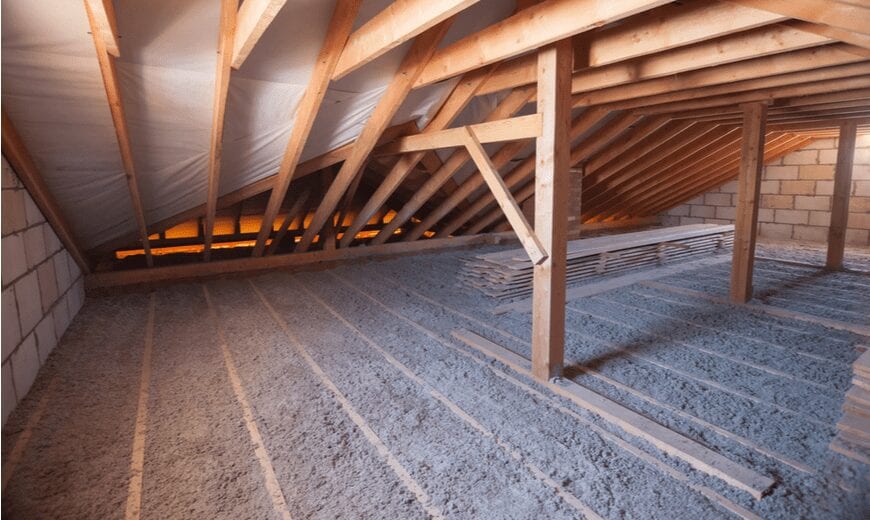 Popular insulation fills
The selection of pourable insulation materials is huge. There is an optimal solution for every heat and sound insulation, even for compensating for unevenness. Join us to get to know some of the most popular materials that are used in raw or refined form. Perlite are small, white spheres made from naturally occurring volcanic rock. By briefly heating above 1000 °C, raw perlite expands many times over and expanded pearlite is created with a thermal conductivity of 0,040 to 0,070 W/(m K). Expanded glass granulate uses used glass shards, which, when heated with binding and expanding agents, expand into a popular insulating material with a thermal conductivity of 0,06 to 0,70 W/(m K). Foam glass granules are pebble-sized, angular fragments of foam glass sheets. The Altlas material is heated and cooled in a controlled manner in order to create a low thermal conductivity of 0,07 to 0,09 W/(m K) with the enclosed air. Expanded polystyrene (EPS) are lightweight foam beads made from petroleum that are foamed with steam. The material, known under the brand name "Styrofoam", is inexpensive and has a thermal conductivity of 0,035-0,040 W/(m K). With dry clay fills, wood-clay mixtures, expanded glass-clay mixtures, hemp mixtures, bituminized hemp shavings, spelled husks and airgel granules, ecologically oriented builders can find more efficient building materials for environmentally friendly insulation.
Advantages of an insulation fill
A big advantage of the insulation fill is its possible use as a leveling fill for your screed. It creates the necessary levelling, which a screed layer would otherwise carry out with elaborate, detailed work. In addition, the bulk material penetrates into hidden cavities and nestles closely to existing lines and pipes. The benefit of insulating fill is also evident during processing, as we save a lot of time without cutting and there is no waste from cuttings. You protect the environment and only buy as much material as you really need. The filler also allows a variable insulation thickness, which depends solely on your intended use. We are happy to make our experience as a screed company available to you.
Large variety of materials
There is a huge selection of organic, inorganic and synthetic insulation materials for pour or blow-in insulation. However, most users base their choice on three parameters:
the thermal conductivity
the building material class
the materials chemistry
The lower the thermal conductivity value, the better the material protects against heat loss. The building material class according to DIN 4102-1 provides information about fire behavior and ranges from A1 (non-combustible) to B3 (easily flammable). Material chemistry plays a role in ecological considerations. But be careful: an organic insulating material is not always more environmentally friendly than an inorganic or synthetic one. We would be happy to use our expertise to help you make the right decision.
Safety from the experts
As a screed company, we have a lot of experience in realizing the leveling fill for your screed in such a way that an even leveling is created that is free of thermal bridges and cavities. With optimized tools and professional expertise, we work quickly and cleanly so that you can benefit from your new thermal and footfall sound insulation as soon as possible. We would be happy to advise you on your options for using the insulation fill for subsequent core insulation in double-leaf masonry, as insulation between your ceiling beams or for renovations. We know most of the insulating materials on the market and will help you to make the right choice for your building project. Register today and you will soon be able to enjoy your comfortably warm insulated home.