Remove and dispose of screed
[ What we offer ]
Screed removal and screed disposal - all from one source
Start your remodeling or new construction cleanly and with professional help. We will take care of removing your old screed, cleaning the area and then arrange for the proper disposal of your screed waste. With your demolition work you are in competent hands with our company.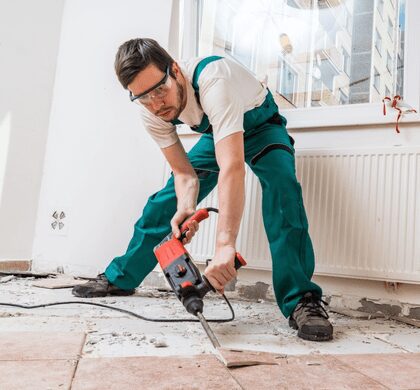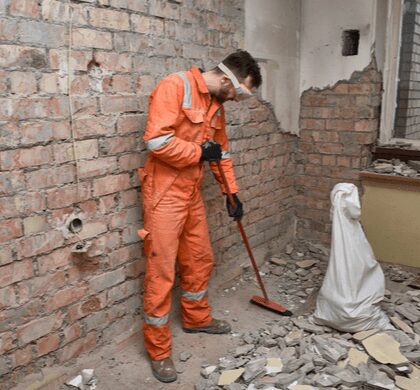 Careful screed disposal for a fresh start
If you want to modernize an old house or remodel an unfavorable room layout, your first step is to have a professional screed removal. The same applies to the installation of energy-saving underfloor heating or the conversion to barrier-free living space. Removing the old screed beforehand will bring you a fresh start, free of troublesome repairs and patching – a living experience like a new building.
For a free, clean construction area, we will handle the removal of your old or defective floors. The deconstruction and dismantling work begins with chiseling off the old screed and ends with the ecological disposal of screed and construction waste. We hand over the newly cleared construction area to you on schedule and swept clean – or, if you wish, we can lay a new screed right away.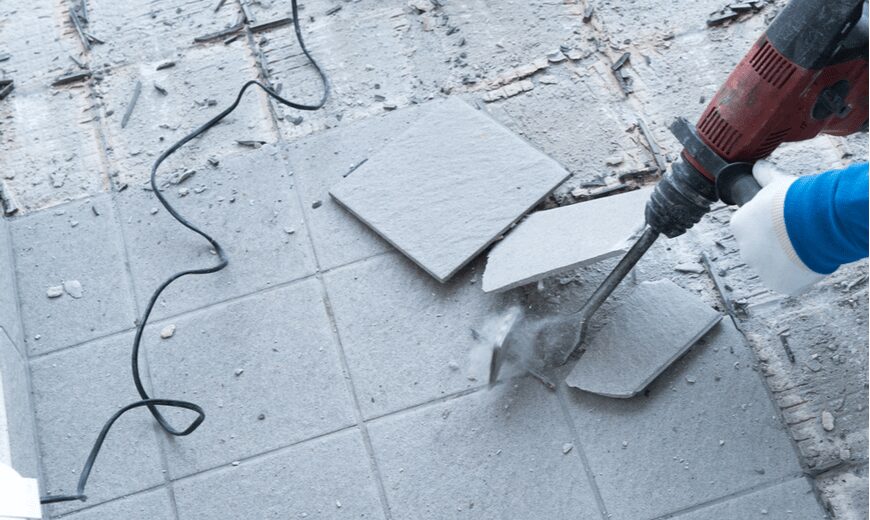 Good reasons to remove your old screed
Instead of expensive renovation of a damaged screed, it often makes more sense to remove the old screed right away and replace it with a robust, durable screed. For example, if the screed has become detached from the substrate, repair is rarely possible. In buildings built before 1993, there is also a risk of asbestos content in the screed or underlying insulation material. Here, the complete and professional screed disposal is extremely important, so that you can subsequently enjoy your home again healthy and relaxed. Modern building materials are ecologically and economically the better choice.
Even existing water damage may require screed disposal, especially if the underlying insulation layer is soaked and at risk of mold. In many cases, your insurance will cover the costs incurred. We will be happy to help you here.
What types of screed we remove and dispose of
When we remove your existing floor and dispose of old screed. After consultation, we also take care of your asbestos-containing screed and dispose of pollutants and accumulating construction waste carefully and in an environmentally friendly manner.
For you we remove, among other things:
Cement screed with and without reinforcement
Claddings and coatings
Asphalt screed with bitumen
Screed on insulation layers
Dry screed panels
Anhydrite screed
Magnesite screed
This is how the demolition work is carried out by our company
Punctually at the agreed time, our team arrives at your construction site with all tools and machines. To remove the screed, our employees carefully pry up the screed with a strong hammer drill. Taking into account the structural fabric of the building, we break up the entire surface piece by piece until the underlying foundation is exposed.
Of course, we also take care of the dust that accumulates during screed removal. We suck this up while we are still working, thus sparing the rest of the building. Screed is disposed of in bags or containers in which we store larger fragments and coarse-grained construction debris that is difficult to vacuum up. At the end of our work, you will find a clean construction area ready for new home ideas.
Our experience for your successful screed removal
Our success is based on our many years of experience. For more than 35 years we have been your contact for screed removal, laying and disposal. For renovation, conversion or new construction, we are at your side with advice and support. We help you to clarify whether your water damage is a case for insurance, whether your existing screed contains asbestos components and whether a heating screed supports the effect of a new underfloor heating system.
Our teams have the know-how and tools to get the job done quickly and safely. As a company, we pay close attention to preserving the structural fabric of the building when removing screed. All materials, from an existing impact sound insulation to any thermal insulation and waterproofing layers to the actual screed, are disposed of by our employees professionally and in accordance with ecological principles.
Material separation and proper screed disposal
Competent disposal of screed already starts at your construction site. Even on site, we pay close attention to the materials involved in screed removal. Debris may contain aggregates of glass, plastic, asbestos or textile fibers. Underneath, separating material can be simple cardboard, tar paper, plastic films or bitumen. In addition, there are various materials of an impact sound insulation, which we remove for you during the demolition work by our company.
For every screed disposal, we pay careful attention to the exact separation of hazardous special waste and simple construction waste. Fragments with tar-containing adhesive, asphalt residues and screed with asbestos components belong in hazardous waste. For example, old magnesite screeds may contain additives of 0.5 to 7% asbestos. In difficult cases, we therefore draw on a wide network of experienced waste management companies.
Much praised customer service
For three decades, we have focused on comprehensive customer proximity, high quality and great reliability. The success and the many positive feedbacks from our customers prove us right. To make it easier for you to contact us, you can reach us conveniently by phone, email or WhatsApp. Just send us a message and we will be there immediately to provide you with comprehensive advice and dispose of your screed.
We make screed removal easy for you and coordinate the demolition work for you from the journey to environmentally friendly screed disposal. You will have a clean substrate ready for your further construction work. Book us today and take advantage of our years of experience for the rapid success of your construction project.