[ What we offer ]
Screeds and screed work
Dry or flowing, we lay your screed quickly and cleanly, whether floating or firmly connected to the subfloor. With our experience of more than 25 years you play it safe with all screed works, from the consideration of your heat and impact sound insulation, over the production of a jointless subfloor up to the desired level compensation.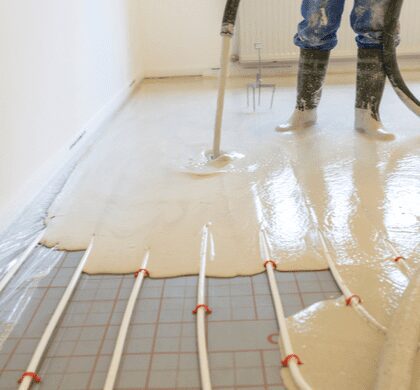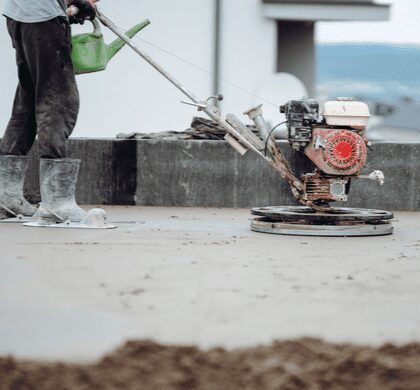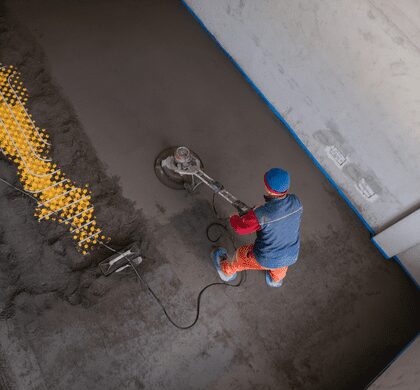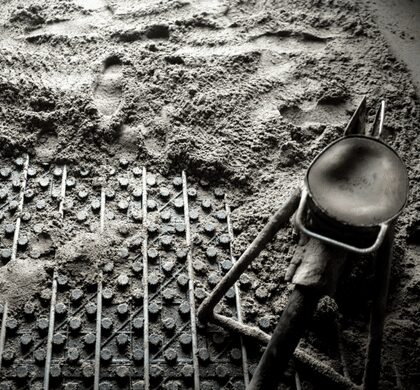 Screed – an important part of your floor
A screed is an almost indispensable part of the floor. It serves as an intermediate floor between the load-bearing subfloor and the floor covering you have chosen. Especially in working areas, screed is becoming increasingly important as it forms a homogeneous, jointless surface that is easy to clean and stable enough for the mobile use of heavy machinery. Yes, you can use your screed without flooring.
Its ability to distribute pressure evenly over a large area makes screed ideal for underfloor heating, protecting insulating layers and concealing cables and pipes. As a screed company, we would be happy to advise you on your options for creating a warm, resilient and safe floor.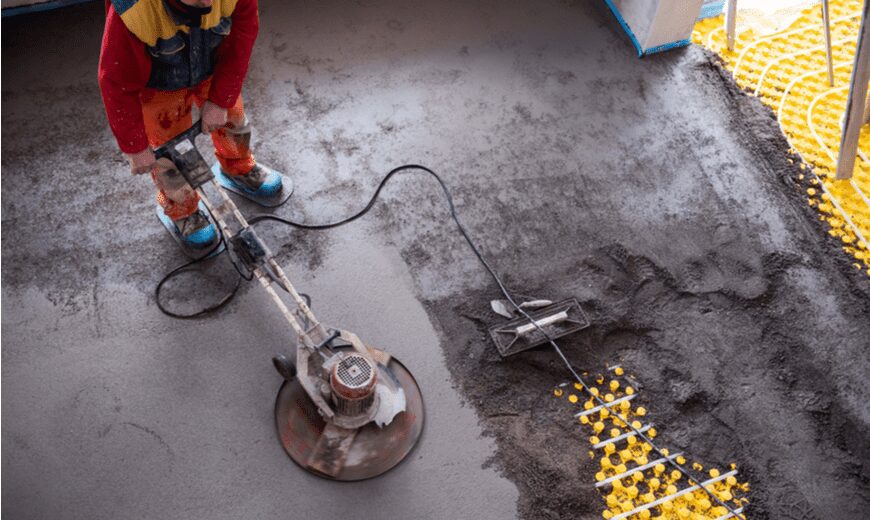 Advantages and functions of the screed
Because of its high load-bearing capacity, it is hard to imagine a building without screed. The screed layer uses it to even out the unevenness of your floor slab or to create a light and even foundation for your desired floor covering on wooden beam ceilings. Even on terraces, balconies and in garages, the screed provides a secure hold and permanent protection for underlying layers.
A heating screed also distributes the valuable heat provided by your underfloor heating, as your heating pipes run directly through the screed. If you need a certain height for your floor, then we will help you as a screed company to produce the specified floor height by adjusting the screed thickness.
Dry, flowing, floating – what's the difference?
The terms "dry" or "flowing" are used by the screed layer to describe the laying method he uses to lay your screed. In the case of a site or poured dry screed, he applies the screed mortar over a large area and then draws it off plumb. Another variant of dry screed is prefabricated screed panels, which are installed on site as a prefabricated screed. Both options allow for the incorporation of a slope to direct liquids to a drain.
A flowing screed we apply as a screed company liquid, which then takes a few days to dry. The influence of gravity creates a homogeneous, horizontal and joint-free surface. Floating, on the other hand, refers to laying on an insulating layer without connecting to walls or subfloor. With a floating screed you avoid thermal and sound bridges.
Types and standards
The huge selection of screed types can easily lead to confusion. Here is a brief overview of what is behind the abbreviations:
AS = mastic asphalt screed
CE = Calcium sulphate screed (also anhydrite screed)
CFE = calcium sulphate flowing screed
CT = cement screed
CTF = cement screed
MA = magnesia screed
SR = synthetic resin screed
Each type meets different requirements in terms of thickness, fire behaviour, thermal insulation, sound insulation or dry bulk density. In addition, there are maximum temperatures for heated screeds, hardness classes and material requirements depending on the existing substrate.
To ensure that you can rely on the quality of your screed at all times, as a specialist company we strictly follow the applicable standards DIN 18560 (screeds in construction) and DIN 18353 (screed work). In addition, we constantly keep up to date with the latest recommendations from all current technical standards, such as DIN 13318 and DIN 13813 for screed mortar, DIN 197 for cement or DIN 1045-3 for construction work.
If you place your work in our experienced hands, we as a specialist company will take care of the requirements for screed thickness, the limits for evenness deviations, the compressive strength classes and the permissible shrinkage.
A company with experience
In more than 25 years of daily practice, we have built up the experience that ensures our high level of quality in all screed work. To ensure that we maintain this level in the future, we follow a strict quality management system that combines tried and tested structures with the current state of knowledge in the construction industry.
We are proud of our work. Each and every one of our employees is committed to demonstrating our values of reliability and professionalism in their dealings with you. Let us convince you and arrange your first consultation today, then your new screed will soon be at your feet.