Calcium sulphate floor screed
[ What we offer ]
Calcium sulphate floor screed
Calcium sulphate flowing screed (CAF, CFE) consists of sand/gravel, water and calcium sulphate as a binder. It has a flowable consistency that makes it self-leveling (self-leveling) and self-compacting. Calcium sulphate flowing screeds are marked with the CE mark in accordance with EN 13813. This marking guarantees consistent properties that are monitored according to standardized quality requirements.
Areas of application for calcium sulphate floor screed
Calcium sulphate floor screed can basically be used in all residential and commercial buildings. This also includes domestic wet rooms (e.g. kitchens, toilets). In rooms where splashing water is to be expected (e.g. bathrooms), the screed must be protected by sealing. Calcium sulphate floor screed is not suitable for real wet rooms (e.g. swimming pools).
By the way: Calcium sulphate flowing screed is the ideal screed if underfloor heating is to be installed. Because it has a high thermal conductivity and storage capacity. This has the advantage that it does not have to be laid so thickly, which means that the distance between the heating pipe and the surface is smaller. This means that the heat quickly reaches the surface. Shorter heating-up times and lower flow temperatures go hand in hand with lower energy consumption, which is good for both the environment and your wallet.
Techniques for laying calcium sulphate floor screed
Calcium sulphate floor screed can be used in many constructions and laying techniques. Which one is chosen depends on the function of the component and the expected loads. In principle, calcium sulphate flowing screed is suitable for all screed constructions in accordance with DIN 18560. The following table provides an overview of the possible laying techniques/screed constructions and in which areas they are most frequently used:
Laying technique | suitable for
bonded screed | Areas where heavy loads are resting or being moved on the floor
(floating) screed on insulation layer | Residential and commercial construction with requirements for heat and sound insulation
Screed on separating layer | Areas in which bonded screed is not possible, there are no heat or sound insulation requirements or a seal has to be installed
heated screed | underfloor heating
cavity floor construction | administrative and commercial buildings
Note: The nominal screed thickness, which is specified in the respective standards, changes depending on the area of ​​application or use.
What to look out for when laying calcium sulphate floor screed
The calcium sulphate flowing screed is delivered either as factory dry mortar in sacks or silos or as factory fresh mortar from the truck mixer. The latter has the advantage that no space is required for raw materials and no waste is produced.
Calcium sulphate floor screed is relatively insensitive to outside temperatures. Processing at outside temperatures below freezing point (0 °C) is not a problem as long as the room and mortar temperature is at least 5 °C during processing.
Basically, the screed should be laid as thin as possible, but as thick as necessary. The nominal screed thicknesses required by DIN 18560 must of course be observed, but should not be significantly exceeded. Otherwise the drying times will be considerably longer.
Proper ventilation is essential for quick drying. The following tips will help:
in the first 48 hours: protect the screed from draughts
from the 3rd day: intensive airing (depending on the weather either airing several times a day or permanent airing)
until completely dry: protect the screed from rainwater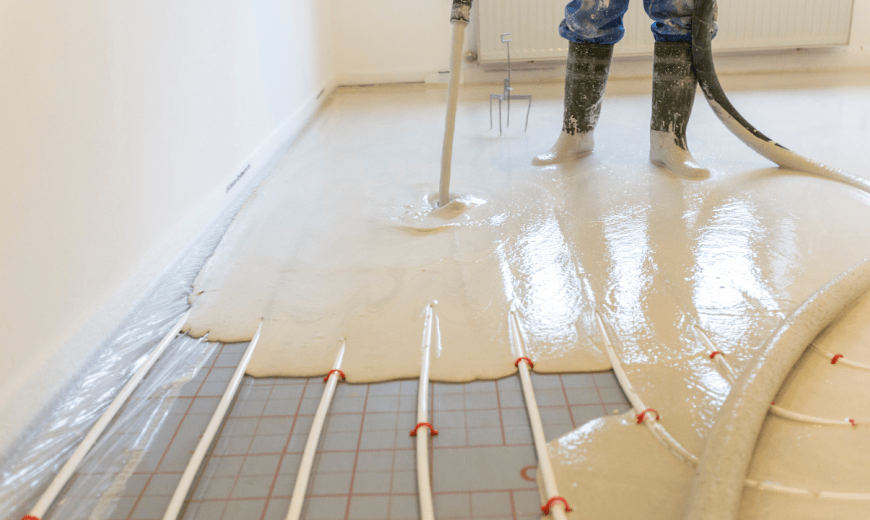 The advantages of calcium sulphate floor screed
Calcium sulphate floor screed is characterized by high flexibility, thanks to which the nominal screed thickness can be up to 20% less than with conventional screed. This allows more installation height, which can be used for additional heat or footfall sound insulation if required.
Its fluidity allows the screed to form a flat surface quickly and easily, without requiring great physical effort.
Calcium sulphate flowing screed forms a homogeneous, dense structure that quickly develops the necessary tensile and compressive strength. Reinforcement is not required. The screed can be walked on after just 2 days and can be loaded after 4-5 days - this allows for faster construction progress compared to other types of screed.
Another big advantage: With calcium sulphate flowing screed, the so-called bowl effect does not occur. This means that the edges and corners do not rise, so that no countermeasures or corrections need to be made here. This saves effort, time and money - not only during installation, but also in the years to come.
Your contact for all kinds of screed work
Are you interested in the advantages of calcium sulphate flowing screed or would you like general advice on various screeds? Then you are exactly right with us. We have extensive know-how and over 25 years of experience in advising on and carrying out all kinds of screed work. From the first consultation to acceptance of the finished screed - we are always happy to help and advise you.
Convince yourself of the professionalism, quality and reliability of our work, which each of our employees does with passion and pride. Contact us and arrange a personal consultation, we look forward to supporting you with your project!
[ FAQs ]
Questions and answers about calcium sulphate floor screed
What dries faster - calcium sulphate screed or calcium sulphate flowing screed?
Calcium sulphate screed dries faster than calcium sulphate flowing screed. However, the latter harden faster and can therefore be walked on and loaded earlier.
Can calcium sulphate flowing screed be laid in combination with underfloor heating?
Yes, very well. The first heating is possible after 5-7 days. Since calcium sulphate flowing screed can conduct and store heat very well, it can be laid thinner than other screeds. This saves energy and money.
Cement floor screed vs. calcium sulphate floor screed - which is better?
That cannot be said in general, because both types of screed have their advantages, so that it always depends on the area of ​​application and the need. Calcium sulphate floor screed is - unlike cement floor screed - not moisture-resistant and can therefore not be used in damp or wet rooms. On the other hand, the shrinkage behavior and susceptibility to cracking are significantly lower with calcium sulphate flowing screed. In addition, calcium sulphate flowing screeds can be laid without the movement joints that are required with cement flowing screeds.