[ What we offer ]
cement flow screed (CTF)
Cement flow screed (CTF) is a variant of cement screed. The essential components such as cement and aggregate are the same, but the cement flow screed also contains superplasticizers that give it its special, flowable consistency. Ideally, the granulation of cement floor screed is smaller than that of other cement screeds. In this way, inhomogeneities in the body of the screed can be avoided.
According to DIN EN 13813, cement flow screed is a CE-marked screed mortar. Its use is regulated in the DIN 18560 standard.
Cement flow screed has two important properties: it is self-levelling and self-compacting. This means that it spreads almost automatically and achieves a high density. Compared to conventional cement screed, a thinner layer thickness is required for the same load capacity.
Fields of application of cement flow screed
The most common areas of application for cement floor screed are living spaces. Since the material is moisture-resistant, it can also be laid in damp rooms such as bathrooms or saunas, basements or garages. It can even be used in permanently wet areas such as swimming pools. It can be combined with all additional floor coverings and also with underfloor heating. Of course, it can also be used in commercial buildings such as schools, halls or workshops.
Note: However, cement flow screed is not suitable for outdoor use, as it is usually not sufficiently resistant to frost de-icing salt.
Depending on the area of ​​application, other laying techniques are common.
Laying techniques of cement floor screed
In residential construction, cement flow screed is mainly used as a floating screed that lies on a layer of insulating material. It is also popular in connection with underfloor heating. In larger buildings that are used commercially, on the other hand, it is common to use the cement floor screed as a bonded screed or alternatively on a separating layer. The use of surface-ready screed is also possible, but is rarely implemented.
Practical: Cement flow screed can be laid with comparatively little physical effort. It is applied to the substrate with a watering hose and then distributed with a buffing rod. Thanks to its fluidity, it gets into every corner almost by itself and is distributed over the entire surface at a uniform height.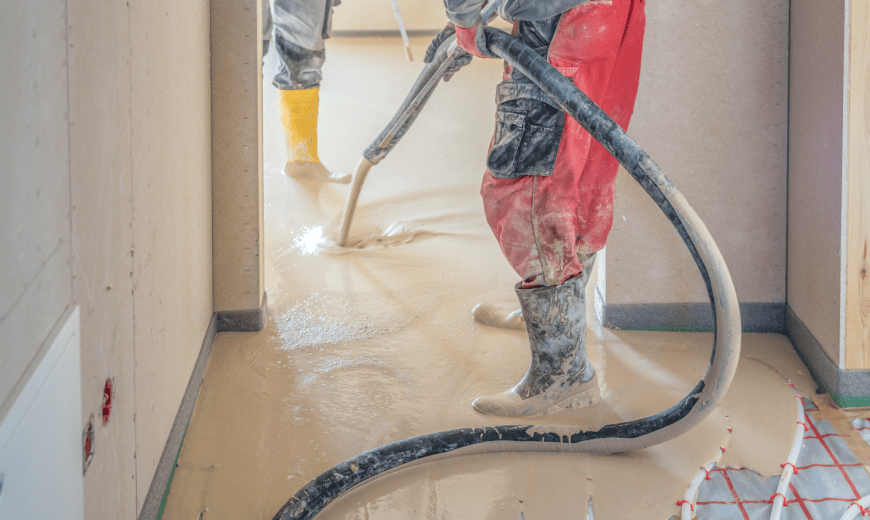 What to look out for when applying cement floor screed
Cement flow screed is available in two variants:
Factory-fresh mortar: is delivered ready-to-use from the truck mixer
Ready-made dry mortar must be mixed with water on site before laying

The application of cement floor screed requires knowledge and ability. Because the material tends to dry out on one side and cracks. Professional processing is all the more important. On the one hand, overwatering is to be avoided at all costs. On the other hand, movement joints must be planned, which reduce the tendency to crack.

Not only the thickness of the screed panel, but also the environmental conditions can affect the drying time. In general, care must be taken to ensure that the temperature during laying does not fall below 5 °C. At higher temperatures and air exchange rates, the drying time is shortened, while high humidity lengthens it. The drying process can be accelerated by grinding the surface.

The advantages of cement floor screed

Thanks to its more liquid consistency compared to conventional cement screed, the physical effort involved in applying cement screed is lower. Applied with a pump and a hose, gravity alone ensures that an even, completely flat surface is created (automatic leveling).

However, cement floor screed is not only self-levelling, but also self-compacting. The comparatively higher density goes hand in hand with a higher load capacity, so that the screed can be laid thinner. This not only means less material consumption, but also a shorter drying time.

In addition, cement floor screed - in contrast to other floor screeds such as calcium sulphate floor screed - is moisture-resistant. And it is characterized by early readiness for covering and very good heat transfer. This makes it ideal for combining with underfloor heating.

Your contact for working with cement floor screed

Comprehensive know-how, regular further training for our employees and over 25 years of experience in laying screed are the basis for our professional screed work. Your satisfaction is our top priority, which is why we rely on strict quality management to ensure the high level of our work. We are proud of that - just as much as of our passion and reliability, which each and every one of our employees stands for. Convince yourself and let us advise you. We are at your disposal for all kinds of screed work - from planning to execution. We are looking forward to your message!
[ FAQs ]
Questions and answers about cement floor screed
Where is cement flow screed used?
Cement flow screed is mainly used in residential construction. It is suitable for all rooms, including rooms with high humidity or wet rooms. It is also used in commercial real estate.
What ratio of water and cement is optimal for cement floor screed?
A w/c ratio (water/cement ratio) of slightly less than 0,80 is considered ideal. This means that the ratio of water and cement is 80:20. Such a screed has very good flow properties and is therefore very easy to process.
What is the compressive strength of cement flow screed?
The compressive strength depends on various properties of the material. In addition to the strength class and the water-cement ratio, this also includes the adhesion of cement paste and aggregate and their degree of compaction. A self-levelling cement screed with an optimum water/cement ratio can have a compressive strength of 25 N/mm² after curing.