Smoothing Concrete – Power troweled concrete
[ What we offer ]
Smoothing concrete - a proven method with great advantages
Smoothing concrete is a process used to smooth and finish the surface of concrete. Special small and large concrete smoothing machines are used for this. This treatment of concrete surfaces has long proven itself in industrial construction. It is now also used in commercial and private residential construction and is valued as an alternative that saves time and money.
Smoothing concrete creates an even, smooth, and aesthetically pleasing surface. The durability of the concrete is increased. The surface of poured concrete is usually rough and uneven. This unevenness can be eliminated by smoothing, resulting in a closed, smooth surface. The application of a screed is no longer necessary.
Concrete smoothing is carried out immediately after stripping, as long as the concrete is still sufficiently moist and has a malleable consistency. For this purpose, a concrete smoothing machine - the trowel - is guided over the concrete surface. The rotating grinding plates level and smooth the material. Smoothing can be combined with special chemicals. This can further improve the durability of the surface.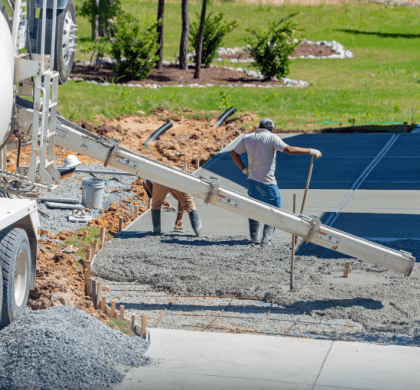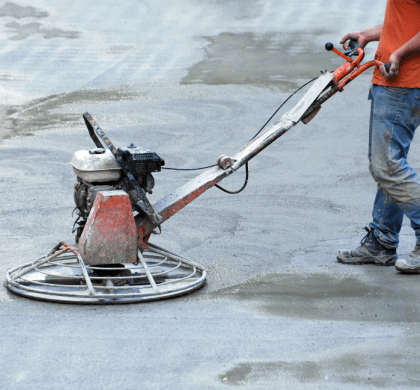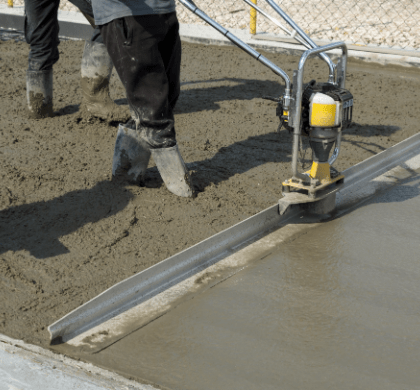 Practical, inexpensive, hard-wearing - we smooth your concrete surface with the most modern machines
Wherever a concrete slab is being poured, smoothing is a cheap way to turn a rough concrete floor into a smooth surface.
This smoothing is particularly useful and economical for the following floors:
– industrial floors
– garage floors
– storage areas
– Bottoms of tank containers
– agricultural soils
With our machines, we process large industrial floors as well as small areas up to 250 square meters.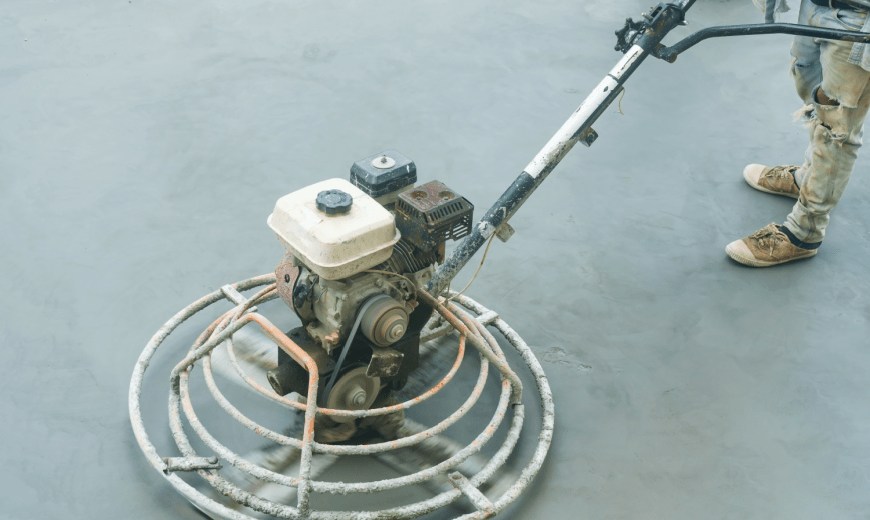 What distinguishes smoothed concrete
The concrete smoothing process gives you a cost-effective, hard-wearing and smooth floor – aesthetically pleasing and all of a piece. Compared to screed, the smoothed concrete floor is significantly more robust and resilient. The concrete floor is cast in one piece, there is only a small risk of chipping of the surface.
The advantages of smoothed concrete are manifold.
The process improves the surface quality of concrete because it eliminates cracks, bumps, irregularities and other defects.
The shelf life is extended. Moisture and other harmful substances cannot easily penetrate the concrete floor.
Dirt and deposits do not settle in cracks and bumps. The smooth surface is easier to clean than a rough floor panel.
A flat base plate contributes to safety. Tripping hazards due to uneven surfaces are reduced.
The maintenance costs are low. Concrete's smooth surface requires less maintenance and repair over time than rough concrete.
Concrete smoothing process
After installation, the fresh and still damp concrete must be strong enough to be walked on. Then the motorized smoothing machines can be used. First, the concrete surface is rubbed down and compacted with the "plate", the fine concrete particles are transported to the surface. This is followed by the work steps with the "power trowel". With it, the surface is leveled and further smoothed. Rotating trowels distribute the concrete fines evenly and further compact them, resulting in a screed-like surface.
Various surface structures can be produced with the trowel. With the help of our special edge machines and hand trowels, we can cleanly work even the outermost edges of the surface. If desired, the smoothed surface can be wetted and also covered with foil. These methods serve to prevent rapid dehydration, especially in hot weather. This reduces the risk of cracking.
Advantages of processing with our concrete trowel:
– an optimally smooth surface
– quick usability
– high wear resistance due to the incorporation of hard material
– under normal conditions without any delamination, flaking and cavities
– colored floors are also possible
If you wish, we can seal the smoothed concrete surface or carry out an early impregnation.
Our large number of emergency vehicles and smoothing machines enables us to also carry out orders with large areas.
Concrete smoothing – prerequisites for an optimal result.
A number of factors are important for excellent results. On the one hand, the weather plays a role. The setting behavior of the concrete must be coordinated, and there must also be a load-bearing subsoil and suitable formwork. The site must have ventilation, power and water, and usually lifting equipment for the machinery. Exact timing is of great importance because of the small time window.

The following factors should be considered when smoothing:

– weather
The concrete surface should be able to be protected from the weather. There is an increased execution risk for outdoor surfaces and temperatures above 30°C and below +5 degrees Celsius. Weather damage can have various causes: rain, snow, frost or direct sunlight, severe temperature fluctuations and draughts. If the concrete recipe is not adapted to the weather and if, for example, there are no expansion joints, the result cannot be optimal. In the event of weather damage, the customer bears the risk.

– concrete properties
The concrete must be uniform in consistency and setting behavior and suitable for concrete smoothing. Its recipe must be adapted to the weather. When ordering the concrete, it should be pointed out that the concrete will be smoothed.

– Concrete installation:
The beginning and end of the area must be easily accessible with our smoothing devices. There must be sufficient height for the machines, and the subsoil and formwork must also have sufficient load-bearing capacity.

– What we need from you:
Light, electricity and water must be available on site. A lifting device is usually required for the machines. If time management requires night work, a night work permit must be obtained from the local authorities.
Benefit from our experience and quality
Profound knowledge, detailed good advice, punctuality and reliability are a matter of course for us. You will receive a high-quality execution of your orders from us.

With the help of our consistent quality management, we recognize any errors at an early stage and can thus eliminate them and avoid them in the future. Our tried-and-tested processes and organizational structures mean that we can also implement timely inquiries quickly and with quality. You benefit from our many years of experience. We can also react quickly and adequately to unusual challenges and complete your orders efficiently.
We are happy to help!
Our employees have many years of experience in concrete processing.

We take the time to get to know your project in detail and to offer you the best possible solution. With our expertise, we can give you well-founded and detailed advice - both on the concrete smoothing process and on the various general conditions for the best possible result. We look forward to your inquiry!