[ What we offer ]
Tiling - Tiling work
For new construction and bathroom renovation, fine ceramic, stone or parquet tiles transform your floor into an experience for your feet. Whether Munich or Ingolstadt, Garching an der Alz or Weißenburg – one call is enough and our experienced tilers will enchant your rooms into the tiled world of your dreams.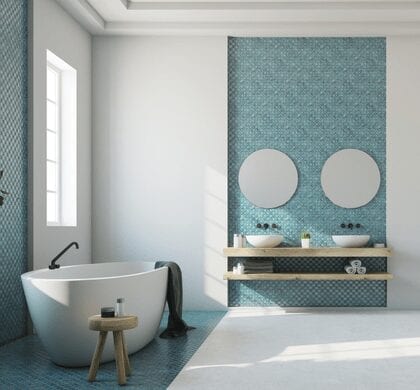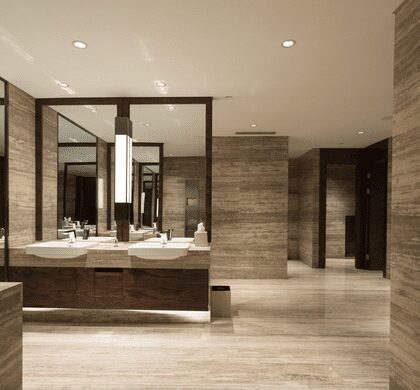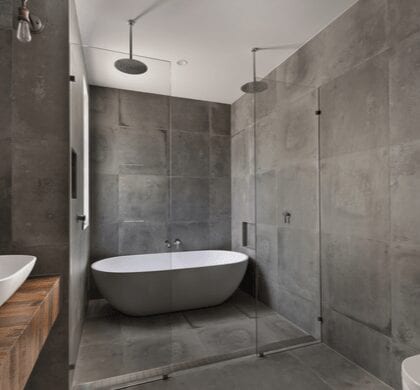 Ceramic, natural stone, glass or plastic
Tiles offer you excellent possibilities when it comes to modern, hygienic and energy-saving living concepts. The hard-wearing tiles are made of easy-to-clean materials such as ceramic or natural stone. In wet and outdoor areas, tiles made of glass or plastic are also gaining in importance, as they are waterproof and resistant to mould.
As a tiling company, we create the floor of your dreams, where simply sweeping or mopping is all that is needed for cleaning. Unlike carpeting, tiles allow the heat from your underfloor heating to pass through. This is good for the indoor climate and good for the environment.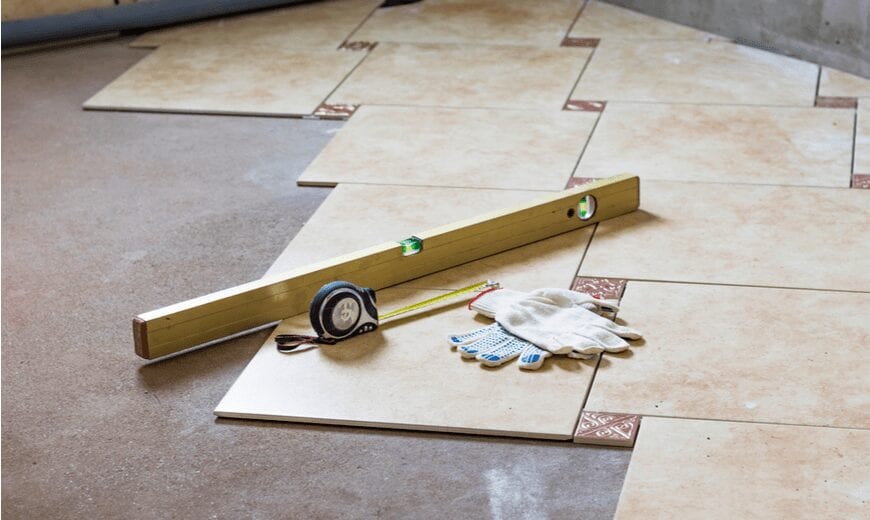 Bathroom, hallway, living room – where tiles come into their own
Ambitious builders even decorate the facades of business and private houses with special outdoor tiles. However, the majority of tiles are intended for indoor use. Here they blend into the given living concept with soft terracotta tones or bright colour combinations. The only limit is your imagination.
Whereas in the bathroom or entrance area of your house you will mainly enjoy the easy cleaning of your walls and floors, in the living area the focus is on the colouring and the room climate. As a tile company, we are happy to advise you on how to create an optimum feel-good atmosphere with a skilful selection. With the right choice of tiles, you will save on heating costs and reduce allergen exposure at flowering time.
benefits and advantages
As flooring contractors, we experience the value that quality tile brings to a floor every day. Many customers choose floor tiles to take advantage of the wide selection of colors, patterns and designs. That the decision gives them satisfaction for many years, they then realize later.
What characterizes the satisfaction are the excellent features of the tiles. You are
modern
long-lasting
rugged and durable
resistant to mould growth
thermally conductive for your underfloor heating
easy to clean with broom and mop
available in a wide range of colours and patterns
good for allergy sufferers (reduce dust and dust mites).
We are happy to support you as a tiling company in the selection of suitable tiles. You can already look forward to many years with your new floor.
Materials and abrasion groups
Don't look at décor alone when choosing your tiles. During a bathroom renovation, slip-resistant tiles will help you avoid accidents after bathing or showering. The same applies to your patio, so that you can tread safely even after a rain shower.
In order to enjoy your new floor for a long time, it is important to take a look at the abrasion groups. Tiles are divided into five abrasion groups:
Group 1 for wall and decorative tiles
Group 2 for tiles that offer a certain degree of protection during cleaning
Group 3 for living and working areas with normal loads
Group 4 for heavily loaded areas such as terraces, corridors and floorboards
Group 5 for commercial extreme loads (hotels, gastronomy, etc.)
In addition to abrasion groups, pay attention to frost resistance in outdoor areas. Especially with terracotta tiles, there are often different versions for indoor and outdoor use, depending on the temperatures at which the tiles are fired. Our tilers will be happy to advise you on this.
Our services for you
We are there for you whenever you need us. From our branches in Munich, Ingolstadt, Weißenburg and Garching an der Alz, our floor layers are on the road every day to ensure that you get the floor of your dreams. You can expect the following services from the employees of our tile company:
Consulting and planning
Fitting skirting boards
Installing tile rails
level the floor
Carry out silicone grouting
Fill joints in desired colour
Laying floor and wall tiles
Attach moisture insulation
Cleaning and handover of the new
Apply tile borders, patterns and tile pictures
Tile inspection doors (e.g. on bath tubs)
The feedback from our long-standing customers shows that our teams score with experience, quality and customer friendliness. Make an appointment right now for us to delight you with professionally installed tiles.