[ What we offer ]
Retrofit underfloor heating - affordable, quick and uncomplicated
Enjoy cozy warmth and save energy costs? Are you thinking about installing underfloor heating later? Whether it's a new building, an old building or a commercial building: Efficient underfloor heating saves money - and can be retrofitted inexpensively by a specialist company with little effort!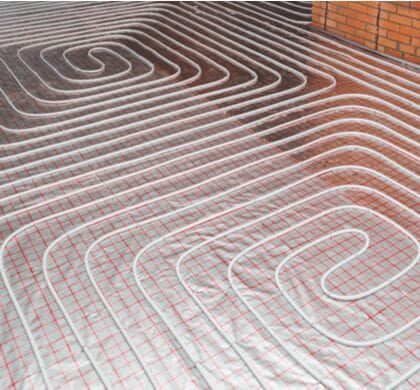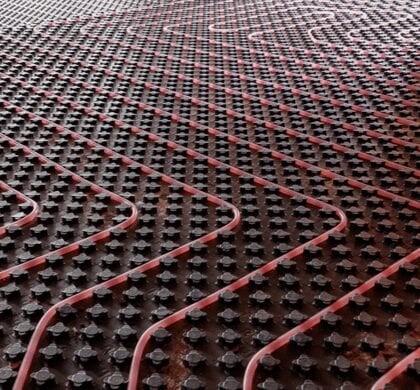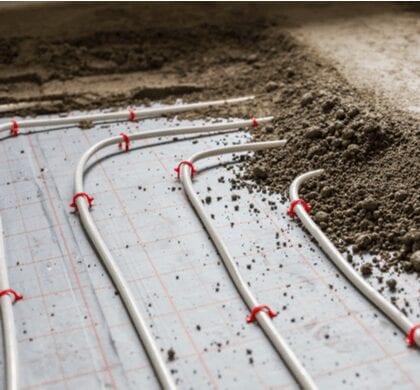 Retrofitting underfloor heating: That's how it used to be
Just a few years ago it was expensive and time-consuming to retrofit underfloor heating: the underfloor heating was either installed over the existing screed or the screed was completely removed before installation. In the first case, depending on the material, you had to live with construction heights of up to 10 cm, at the expense of the room height. The construction height in the area of ​​stairwells also proved to be problematic - and not a good idea for retrofitting only selected rooms. The second, less tempting alternative: remove the old screed completely in order to then integrate the heating into the new structure - time-consuming and expensive, not to mention dirt and noise! A solution that you should choose at most if you are planning a complete renovation of your house.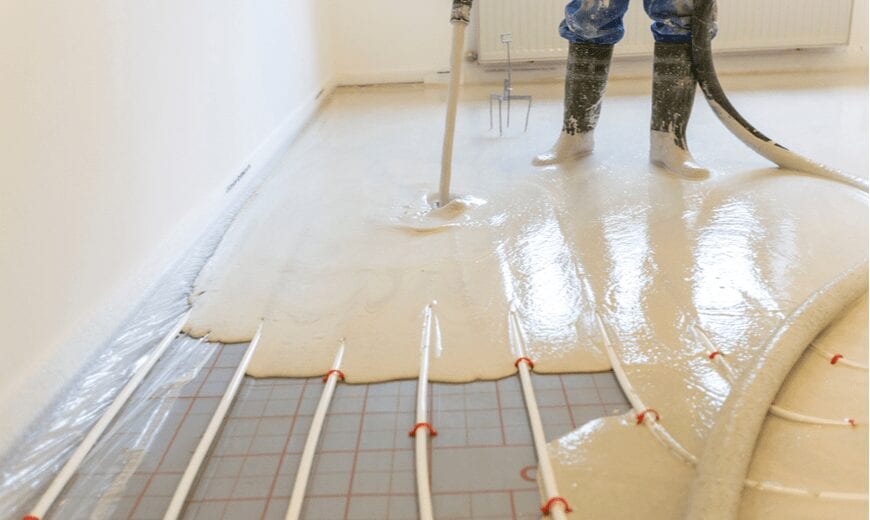 Milling underfloor heating? A clean thing and inexpensive
All of that is history: Innovative processes allow for quick, clean retrofitting of underfloor heating systems close to the surface – with a low flow temperature and maximum efficiency. How is that possible? How do you lay a new heater when the screed is in the way? Quite simply, with a method that has been tried and tested since the 1990s: Underfloor heating can also be retrofitted under wooden floors and floorboards in old buildings during renovation. We simply mill grooves (or grooves) for the heating pipes in the existing screed! As a specialist company for screed, we bring the milling machine and equipment with us. The prerequisite is a standard-compliant screed, smooth and hardened, with a minimum height of around 30 mm. The heating pipes must also meet quality requirements - oxygen diffusion-tight and corrosion-resistant. In order to mill screed cleanly, we use special equipment - powerful machines with extractors that immediately swallow the dust during milling. In this way, the pipes for the underfloor heating can be installed directly and the floor covering can be laid without superstructures or drying times. Retrofitting your rooms with panel heating only takes a few hours. Does that also work in the bathroom? Of course - the tiles can be laid directly after installing the underfloor heating.
Lay underfloor heating wet – on stapled board
Alternatively, you can have your underfloor heating set up on a stapled board. Here we lay the heating wet. The tacker system works with a special mounting plate to hold the pipes. Made of walkable, because pressure-resistant insulating material, the tacker panel also provides heat and footfall sound insulation. In addition to plastic staple plates, there are also ecological solutions, e.g. B. from mineral wool - depending on the traffic load and construction height of the floor in appropriate qualities. In addition, additional insulation can make sense if the heat transfer resistance is insufficient. And that's before any tacker panels are laid: As a solid specialist company, we first assess on the spot whether additional thermal insulation is necessary. Good heating specialists plan underfloor heating professionally - and in such a way that every detail fits the project and building individually, right down to the meandering or snail-shaped laying method. We can already promise you one thing: the costs are manageable at well under 100 euros per square meter!
Laying staple plates: This is how a specialist company does it
Compressed to save space, we roll out the tacker sheets generously on the surface in order to lay them on an even, swept surface. A special edge insulating strip helps to isolate the floor from the rest of the building in terms of noise. Now we put a foil apron made of tear-resistant fabric foil over the laid staple plates - that keeps them in place. To make it easier for our installers to cut the insulation to size and lay the heating pipes more precisely, a grid is printed on the staple plates by the manufacturer. Why are they called that? Because the heating pipes are firmly anchored to the heat and impact sound insulation using plastic staples. This DIN-tested tacker system is particularly easy to install and cost-effective; all components are matched to each other. Knob boards are also an option for wet installation: Here the installer presses the cables firmly into the nubs to ensure a secure hold. Once the heating lines have been laid, we connect them to the underfloor heating distributor. And do the pressure test: Is everything really tight?
Screed from a master hand - for the perfect floor!
The time has come - we apply the heated screed. It surrounds the pipes and embeds your underfloor heating in the screed. Knew? It's not the flooring that makes the perfect floor, it's the screed as the substrate! At wirverlegenestrich.de we have the necessary know-how. Because a suitable screed
– evenly distributes pressure on the insulation underneath
- Levels unevenness in the subsurface
– raises a floor to the desired height
– lays a level base for all types of flooring
– Provides thermal insulation and reduces footfall noise
– can also be used or walked on without a floor covering
Screed is our profession - for over 25 years. Which is why we follow the technological change of our passion with fascination. With ambition to keep up with the times when it comes to innovation, we are only satisfied with our work when you are too.
Of course we don't use cement for underfloor heating...
… but anhydrite screeds such as calcium sulphate. After all, cement is harder to heat up - and only a handful of underfloor heating systems are dry-screed capable. Flowing screed is self-levelling thanks to its liquid consistency, so it does not have to be smoothed, compacted or actively distributed. It also impresses as a heating screed with very good thermal conductivity, easy processing and short drying times. In short, flowing screed encases heating pipes excellently, with ideal load distribution - a stable construction. Your new underfloor heating can go into operation!
Your new one - only as good as your underfloor heating manifold!
Now the heating heat only has to be distributed evenly to all heating circuits of the underfloor heating: With a heating distributor, every room, every office floor has one (or more) of its own heating circuit(s), which can be regulated individually as desired. In turn, each floor of your building can have its own underfloor heating manifold. But you can also only select rooms, e.g. B. Equip the bathroom and living room with underfloor heating. With several heating circuits, you can run different system temperatures - and also assign each heating circuit a remote control and its own time program. Modern underfloor heating can also be controlled via mobile phone app. Underfloor heating distributors regulate the flow rate and balancing for each heating circuit separately. Up to twelve heating circuits can be combined in one heating circuit distributor - ready to guarantee uniform heat distribution everywhere.
How do you finance the subsequent installation?
Properly installed, underfloor heating creates a comfortable indoor climate, increases the value of your property and can noticeably reduce your energy costs. Reason enough to switch now - from conventional radiators to underfloor heating. But how to finance the installation? If you meet certain conditions, there are state subsidies for this renovation. However, there is one thing you should not do: save at the wrong end by having underfloor heating installed by unqualified craftsmen. Connection errors & Co. take revenge - you pay later. Retrofitting underfloor heating by a specialist company is a safe investment, whether in private residential construction or public building, whether in a production facility or private home.
We lay screed & underfloor heating: Let's start a project!
Let's talk to each other about your building project! Our company takes the time to get to know you and your project - and then to propose a good solution with a fair offer. Experienced screed layers and installers in your