Underfloor heating staple system
[ What we offer ]
Flexible and efficient - the underfloor heating with tacker system
Would you like modern, energy-saving and environmentally friendly underfloor heating (FBH), but live in an apartment with rounded room walls or decorative columns? No problem for the tacker system. We adapt your underfloor heating to any room geometry with the tacker system. Sound and heat insulation is integrated in the tacker panels and we will also lay the heated screed for you.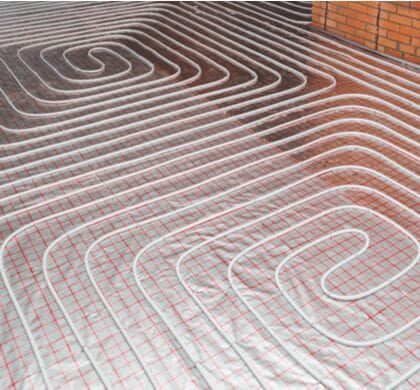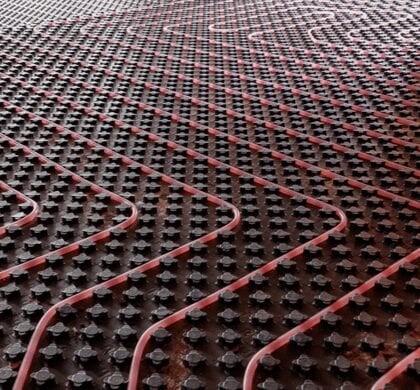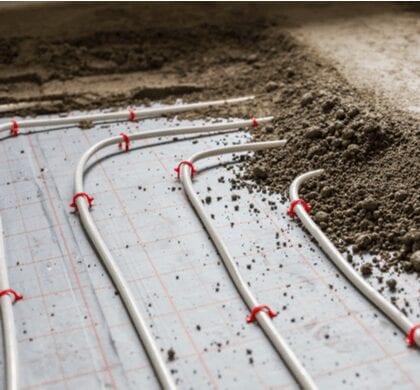 Ready for the future with underfloor heating and a tacker system
An FBH with a tacker system is the ideal combination for quick and flexible laying of your surface heating. With low flow temperatures, you save significantly on your monthly heating costs and even more if you use the advantages of a highly efficient heat pump.

In addition, operation with a low flow temperature allows you to use more flexible heating hoses for your FBH with tacker system. We adapt these exactly to your room geometry so that you can make optimal use of every square meter of heating surface. The tacking system is so flexible because the heating hoses with tacking needles can be freely attached to the tacking plates and the tacking plates already have integrated heat and sound insulation.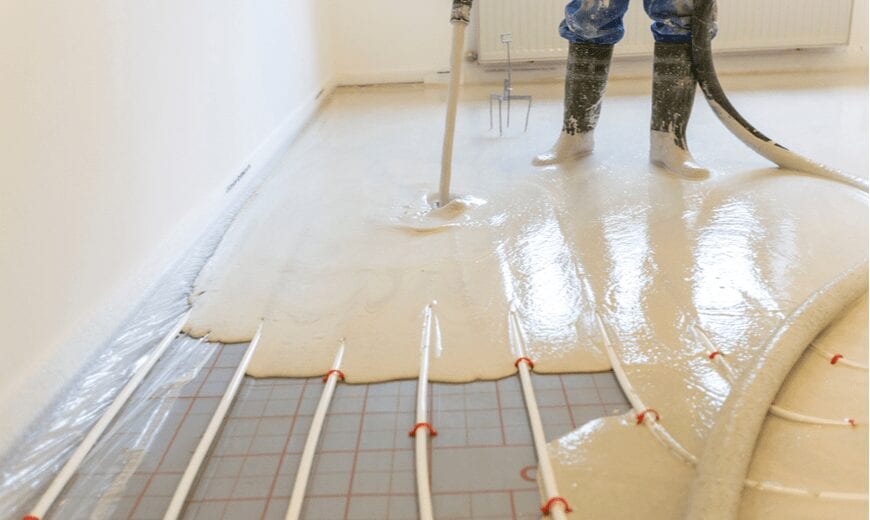 Further advantages of the FBH with tacker system
The FBH tacker system significantly reduces and simplifies the assembly work involved in installing your underfloor heating. This saves you time during the construction work, you can use your rooms earlier and increase the security of your construction planning. Above all, however, it makes the tacker system an economically viable assembly system that saves you money right from the start.
In addition to the flexible pipe laying and the integrated heat and sound insulation in the tacker plates, the FBH tacker system has another task. Special clips with a pipe lifting function ensure that the heating pipes are held at a small distance above the insulation layer. Later, the heating screed completely encloses the pipes, which means that the floor structure of the underfloor heating heats up up to 15 percent faster thanks to the tacker system.
This is how the tacker system works for your underfloor heating
Four important functions are combined in the tacker system for your underfloor heating:
effective impact sound and thermal insulation
secure attachment of the heating pipes
Marking aids for quick heating installation
sealing for the heating screed and against moisture
Markings on the top serve as reference points for the course of the heating pipes. You can do without a folding rule and measuring tape when laying the FBH in the tacker system.
The tacker panels consist of a lower layer of insulation material that can be walked on and a tear-resistant upper layer. The latter usually consists of a waterproof composite film in which the tacker needles find a secure hold. The lower insulation layer is firmly connected to the upper layer and thus creates very good heat and sound insulation, which in many cases works even better than insulation that is laid separately.
Properties and information about the tacker system
You can tell the efficiency of your underfloor heating with the tacker system by the thermal conductivity group (WLG). It is a key figure of the permeability of the insulating material for the flow of heat and is therefore directly responsible for your annual heating cost savings. A smaller WLG number protects more effectively against heat loss. We offer WLG 045 and WLG 040 tacker plates for your FBH tacker system.
The minimum coverage of the underfloor heating with screed also affects the design of your rooms. For cement screed this is 45 mm. If desired, however, it is possible to reduce the minimum overlap to 30 mm using suitable methods. The performance of the FBH and the tacker system are fully retained. The tacker system is therefore equally suitable for old buildings, new buildings, industrial buildings, passive houses and commercial surface heating and cooling.
Specialists are familiar with DIN and European standards
Installing underfloor heating with a tacker system requires much more than manual skills. A variety of German and European standards govern every aspect of underfloor heating to ensure quality and utility. If you do without competent specialists here, you will quickly get into trouble.
We have compiled the most important standards for you below.
Surface heating:
EN 1264 (old DIN 4725) – Surface heating and surface cooling systems
Heat, fire and noise protection:
EN 13501 (old DIN 4102) - Classification of building products and building types according to their fire behavior
DIN 4108 - Thermal insulation and energy saving in buildings (will soon be replaced by DIN V 18599 Energetic assessment of buildings)
DIN 4109 - Sound insulation in building construction
Building Materials:
DIN 18164 - insulating materials for thermal insulation
DIN 18560 - Screeds in construction
Other standards:
EnEV Energy Saving Ordinance
DIN 1055 traffic loads
We would be happy to advise you on your underfloor heating with a tacker system in order to find the best solution for your living situation. We have more than 30 years of experience in this business and are proud of our many satisfied customers.
Our work – fast, competent and clean
Do you want modern underfloor heating with a tacker system and want to know what to expect on the day of installation? You can set yourself up for the following process.
We will arrive at your place on the agreed date, with the necessary tools for the installation of the FBH with tacker system and all the necessary materials in our luggage. Now you can sit back while we get to work. we
detect any unevenness in the unfinished floor
attach edge insulation strips
mount the high-quality staple plates
lay the aluminum composite heating pipes
connect everything to your heating
check the system for leaks
apply the heated screed professionally
smooth the screed surface mechanically
Of course, our employees will take all packaging materials back with them at the end and leave you with a clean surface.
Full cost control with our fixed price offer
In more than 30 years we have built up the experience and know-how that we offer you as competent, qualified and high-quality work when laying your underfloor heating with a tacker system. The many positive feedbacks from our customers confirm again and again that we are on the right track with our focus on quality.
But our experience also has a direct financial advantage for you. Thanks to long-standing business relationships and knowledge of local markets, we receive favorable purchase prices, which we pass on to you. We therefore offer you the FBH with tacker system as a fair and affordable fixed price offer. In this way, you always keep your costs under control and always know exactly what to expect. Decide today in favor of modern underfloor heating with a tacker system and give us a call to arrange your desired date.