The perfect insulation for your floor
A warm house in every season and with the lowest possible heating costs: With the right insulation, this doesn't have to remain a dream. In today's article we will deal with the Insulation of your floors and the different types of insulation and materials. Find out below which insulating materials are suitable for your floor and how you can increase thermal efficiency.
Types of insulation for better insulation
Have you ever wondered what causes most of the heat in your home to be lost? After all, this would allow you to fix the deficiencies, increase the thermal efficiency of your home and save on heating bills. Of course, the energy losses always depend on the object however, most of the heat is lost through the following components:
about 30% through poorly insulated exterior walls
about 20% through that roof
about 10% by the floor
The outer walls and the roof have a larger area than the floor of a house. Of course, all three can also be insulated later, but doing it right is crucial. We deal specifically with floor insulation. Ideally it has already been before installing the screed, a rigid insulation is laid. However, this is not the rule, especially in older buildings. In this case, the floor should be insulated afterwards, taking into account the different floor types.
Insulation from the concrete floor
PIR panels, Styrofoam panels, panels made of rock wool or similar are mostly used to insulate a concrete floor. the Subsequent insulation of the floor is comparatively cumbersome, which is why the majority of builders resort to insulating the basement ceiling. However, there are also cases in which insulating the basement ceiling is simply not possible - for example if the house does not have a basement. In this case, "insulation from above" is the only option. You should consider the following:
Insulating a concrete floor is often more expensive
Space loses height
Doors will be too long and will need to be sanded down
Windows will sit too low
These factors lead to more effort, but are still feasible and are worthwhile in terms of future heating cost savings.
Insulation from the wooden floor
The Insulation of wooden floors can be done either from below or from above. If the floor is made of wooden beams with enough empty space, it can be insulated directly. In this case you can remove the floorboards and the Fill gaps with rock wool or glass wool. Otherwise, individual openings can be created and filled with cellulose or polystyrene using blow-in insulation. The floor is then closed again with the floorboards and a floor covering (laminate, vinyl, etc.) is laid.
Attic insulation
About 20% of the heat escapes through an uninsulated roof. In order to save on heating costs, you should definitely think about insulating the attic. Here either the roof or the floor of the attic can be insulated directly. Since the latter is usually easier to design, most builders choose floor insulation. Generally the The attic is mostly insulated with rock wool, cellulose or EPS granules and covered with OSB panels (or similar).
Remember: Rockwool offers better fire protection but less protection against moisture, which you should calculate and compensate for during installation.
Insulation of a basement ceiling
If the ceiling on the ground floor is too low - a typical problem in old buildings - this can also be the case Insulation of the basement ceiling be made. In this case, there is no loss of height in the living quarters. Nevertheless, you benefit from a warm floor on the ground floor, as the cold is absorbed by the insulation of the basement ceiling. For the insulation are mostly EPS or cellulose granules or wood fibers .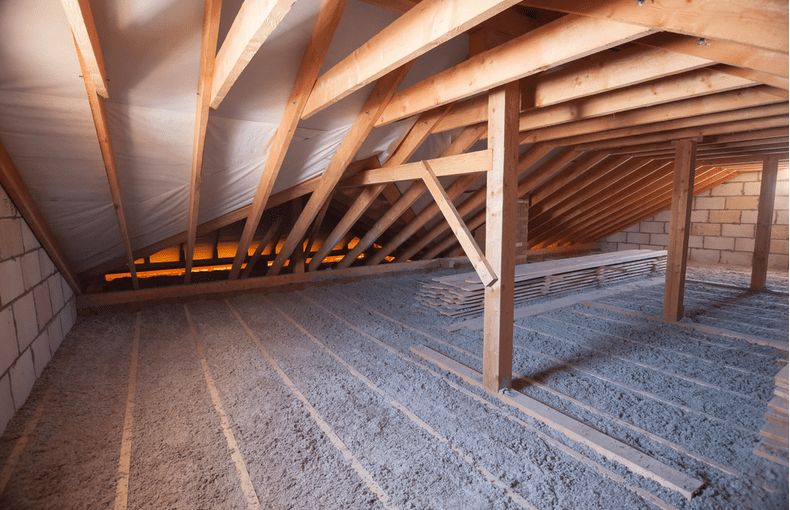 Properties of different insulating materials
In general, insulation materials fulfill several different functions. The most important are:
heat protection
moisture protection
Fire protection
You can choose between synthetic, organic and mineral insulating materials for floor insulation. All three types have their advantages and disadvantages, which we will outline below.
Overview: Different types of insulation materials
Art
insulating material
Benefits
Disadvantages
Price range
Organic insulation materials
hemp plate
Good moisture protection resistance to decay
Poor heat protection Relatively expensive
30-55 €/m2
Organic insulation materials
cellulose
Good heat protection Good moisture protection
-
From €8/m2
Mineral insulation materials
glass wool & rock wool
Doesn't burn
mold resistance
Moderate heat protection
From €15/m2
Mineral insulation materials
perlite
Good heat protection Weather resistant
moisture protection
Relative expensive
From €40/m2
Synthetic insulation materials
EPS
Good heat protection
Good moisture protection
-
From €12/m2
Synthetic insulation materials
PIR
Good heat protection
Good protection against moisture Weather-resistant
Relative expensive
From €95/m2
Organic insulation materials
Anyone who attaches particular importance to environmental compatibility usually uses organic insulating materials. This consist of renewable raw materials and are usually supplemented by synthetic fibers. This primarily increases fire protection. Organic insulating materials can be used in almost all areas of the house, including floor insulation. However, they are usually more expensive and often not very durable.
Mineral insulation materials
A particularly high level of fire protection and protection against moisture is achieved through the use of mineral insulating materials. This consist of inorganic compounds and contain, for example, gravel, sand or lime. With these models, you should pay attention to the weight, which can be problematic, especially when it comes to the energetic renovation of old buildings.
Synthetic insulation materials
Synthetic insulating materials are a particularly cheap, efficient and durable alternative. Due to the properties mentioned, these are particularly popular with builders. she consist mainly of different plastics and are therefore not particularly environmentally friendly.
Conclusion: Insulating the floor increases the quality of life
Floor insulation makes sense in any case, since a large part of the heat energy can escape through the floor. When choosing the right insulating material, you should pay particular attention to good protection against moisture, fire and heat. You should also consider insulating the basement ceiling on the ground floor, as this measure is usually less complicated and cheaper.